Homeopathy
Homeopathy is a system of medicine which treats the whole person by looking at the root of the disturbance rather than just the symptoms.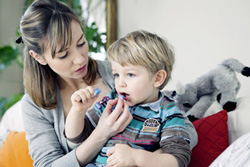 It is very effective for both acute and chronic illnesses and treats the individual with highly diluted substances given in mainly tablet form, which triggers the body's natural system of healing. Based on the patient's experience of their symptoms, a homeopath will match the most appropriate medicine to the patient.
It works on the principle of "like cures like" - that is, a substance that would cause symptoms in a healthy person is used to cure those same symptoms in illness. For example, one remedy which might be used in a person suffering from insomnia is coffea, a remedy made from coffee.
Scientifically, new theories in quantum physics are going some way towards explaining how homeopathy works. We know that a carefully selected homeopathic remedy acts as a trigger to the body's healing processes.
Homeopathy has been widely used throughout the world for more than 200 years. Homeopathy can be safely used alongside conventional medicines and will not interfere with the action of medicines prescribed by your doctor. Because homeopathic medicines (often referred to as remedies) are non-toxic, there are no side effects and they are safe even for pregnant women and babies.
I graduated from the School of Homeopathy in 2012 and have a post graduate qualification in homeopathy with the Dynamis School. I am a registered member of the Society of Homeopaths, am fully insured and abide by the Society's Code of Ethics and Practice.